15 Things to Put in Tackle Boxes (Besides Fishing Tackle)
We have 15 tackle box storage ideas that will solve a lot of your home organization's problems. Who knew all the things you could put in tackle boxes besides fishing tackle?
We sure didn't think of tackle boxes beyond the fishing dock until we saw these ideas! If you have empty tackle boxes sitting around your house, you are really going to love these tips. And if you don't have any at home, after you read this list, tackle boxes will be a must-buy on your next shopping trip.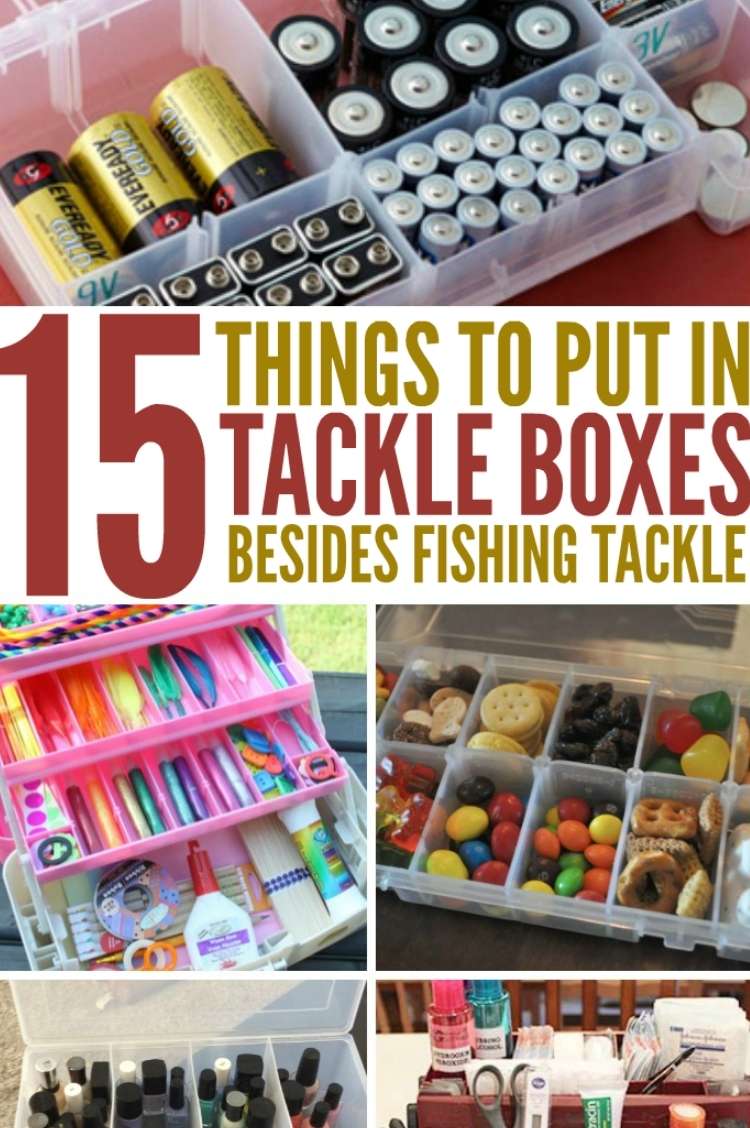 Tackle Box Storage Ideas
Here at One Crazy House, we love things that pull double duty around the house, especially when it comes to organization. Imagine our surprise when we started finding these tackle box hacks! Finally… we can do something with those old tackle boxes in the garage that are just collecting dust. If you have a few tackle boxes that haven't seen water in a while, try some of these storage tips and tricks to put them to use.
1. Store Batteries In a Tackle Box
Battery storage can be a challenge, especially when you have a lot of different sizes and kinds of batteries. The packaging can take up a lot of drawer space and you don't want to remove the batteries from their package and toss them loose in a drawer to roll around. If the battery ends come in contact with each other, that will drain the battery before you even get to use it.
Here's a simple solution. Remove the batteries from the store packaging and store them neatly in a tackle box. You can adjust the spaces to fit the different battery sizes and the tackle box keeps all the batteries neatly contained. They're also visually organized so you can easily see when you are running low on a particular size battery.
Such a smart and simple way to store your batteries!
2. Make a Craft Kit From Your Tackle Box
This is a genius idea! It keeps all your small crafting goodies together; they stay neatly organized in one spot, and it's portable so you can take it with you anywhere you want to go! Brilliant!
Some of the things you might want to add:
Washi tape
Glitter
Glue or glue sticks
Scissors
Stickers
Pens
Markers
Paint
Paintbrushes
Ribbon
Gems
Scrapbook paper scraps
Yarn (depending on size)
Crocket hooks or knitting needles
Stamps
Cutting tools
Ink pads
Jewelry supplies
The possibilities are endless.
If you want to express yourself, customize the outside of your crafting tackle box with some of the supplies you store inside it.
You can put one together for yourself. You could do another for your kids. And they also make splendid gifts for other crafty family and friends!
3. Create a DIY First Aid Kit
It's always a good idea to have a first aid kit handy. Instead of buying an expensive, generic one at the store, build your own DIY first aid kit based on what your family needs. You can make a first aid kit to keep in the car, for a store in multiple areas of the house, or as part of your emergency supplies.
Besides bandages and the like, here are some things you might want to consider adding:
Emergency phone numbers for family, outside contact points, medical professionals
Medications or other small supplies for your pets
Extra prescription medications for your family members
Superglue
Duct tape
Tourniquet
Splints
Plastic bags, assorted sizes
Turkey baster for flushing wounds
Syringes or medicine dosage cups
Safety pins
First aid manual
In our family, we have a kit on each floor of our house, as well as another specifically for the room we gather in during tornados. It's also a good idea to have one in every family vehicle.
4. Travel Snacks In a Tackle Box
A small plastic tackle box is the perfect size for taking snacks on a plane ride or car trip. You can portion out nuts, candy, dried fruit and more, keeping everything neatly contained in one easy-to-move container. Your kids might enjoy creating trail mix variety by mixing and matching the different options you have in the tackle box. So fun!
See more road trip hacks here.
5. Nail Polish Storage
Do you, or one of your children, have a lot of nail polish bottles? Well, here's a clever way to store them.
Organize your nail polishes by color in a large compartment clear tackle box. The bottles stay upright and neatly organized. And they're in a portable container so you take them with you anywhere in the house you want to polish your nails. It also makes transporting them easy if your child wants to take her nail polishes with her on a play date or overnight stay with a friend.
Bonus, if a bottle breaks or leaks, and has drips running down the side, the liquid polish stays inside the tackle box. No mess to clean up off your floor, bedspread, table, or other household surfaces. Win all around!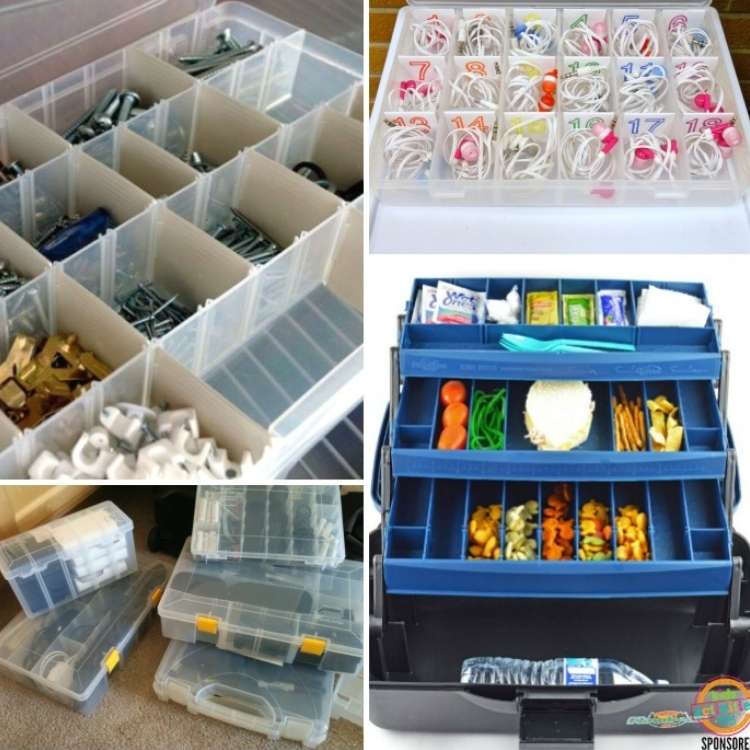 6. Tackle Box Bento
Create a fish-themed bento lunch for the kiddos inside a tackle box. You can include things like fish-shaped crackers, a sandwich cut into the shape of a boat or fish, and pretzel rods that act as fishing poles. Customize it to fit your child's tastes and be sure to add something new for them to try, as well. It's a fun way for them to eat lunch.
7. Small Hardware Organization
Sort all your nails, screws, and other pieces of hardware in a tackle box. It will probably be a pain to get through this project, but when you're finished you will be so happy that you made the effort. You'll be able to find everything you need with one quick glance and that will save you a lot of time and mental energy. Well-worth it!
8. Tackle Box Storage Ideas for Earbuds
Keep each child's earbuds and device chargers in sections in a tackle box. A great hack for teachers!
Simply wrap the cord up and slip it into its place in the tackle box. Keeps everyone's earbuds separated so no tangled cords and everyone can have their own spot in the box.
9. Camera Gear Storage With Tackle Boxes
For all your small camera parts, like extra cords, adapters, cords, and cables, a tackle box is an excellent storage solution. You can keep all your camera gear conveniently organized and easily accessible. Say cheese!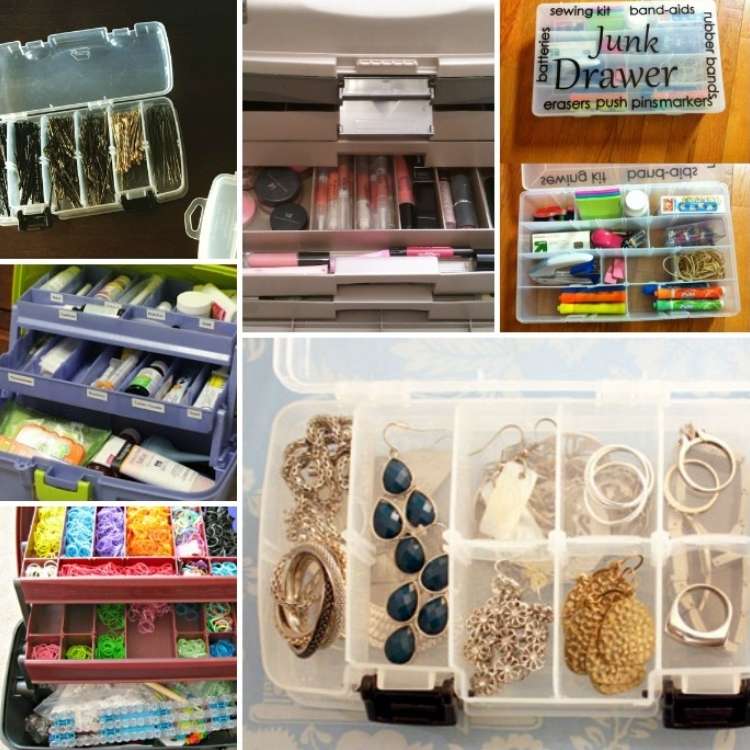 Ways to Use Tackle Boxes
10. Makeup Organization With Tackle Boxes
Do you remember Caboodles? Anyone? I wanted one so badly when I was a teenager, but I never did get one. Well, if like me, you never had the genuine article, you can create your own makeup organizer with a tackle box.
There's plenty of room for all your brushes, lotions, powders, fragrances, pencils, liners, tubes, and gels! You might have to buy more makeup just to fill it up!
11. Jewelry Storage In a Tackle Box
Use a small tackle box to organize jewelry while you travel. Putting your necklaces into separate slots keeps the chains from tangling up with each other. The slots are also the perfect size to hold earrings, bracelets, rings, pins, or watches. Everything will stay in place and it's easy to pick up and move around with you if you're traveling and staying in different locations every night.
12. Junk Drawer Organization
A messy junk drawer is not unexpected. And the point of a junk drawer is the hold all the little (or big) things for which you don't have a home. But you can make it somewhat organized.
Make your junk drawer a little less cluttered by keeping the small things in a tackle box in the drawer. This keeps them from getting lost under the bigger objects you might be storing in the drawer. Simply slide the tackle box out when you need something in it. Brilliant!
13. Hair Accessory In a Tackle Box
Always losing your bobby pins? Keep them in a small tackle box instead of scattered on your bathroom sink or in your medicine cabinet.
This is ideal for storing little hair bows, ponytail holders, ribbons, and other hair do-dads that you might have lying around.
14. Rainbow Loom Storage Idea
My daughter was obsessed with making rainbow loom crafts when she was younger. And we had those rubber bands all over our house! I wish we had thought to organize them with a tackle box! This is so smart!
Organize your rainbow loom accessories. You can organize them by color, of which there is a bajillion. This makes it easy to see when you're running low on a favorite so you can stock up during sales.
15. Create a Baby Tackle Box
Store everything you need for the baby in a tackle box. This baby tackle box has everything from teething tablets and thermometers to gas drops and booger wipes. What a great idea! This might be a fun baby shower gift.
Crazy Smart and Helpful Tackle Box Storage Ideas
Did you know how much you could do with a tackle box beyond the obvious? A tackle box is such a versatile storage option. There are so many ways you can use it and so many things it can hold. Which idea will you try first?
Did You Like These Tackle Box Storage Ideas? Here Are More Organization and Storage Ideas From One Crazy House
The post 15 Things to Put in Tackle Boxes (Besides Fishing Tackle) appeared first on DIY House Hacks - One Crazy House.