For Less Than $50, These 24 Genius Organizers Will Totally Transform Your Messy Home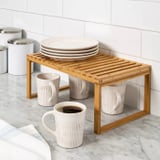 This year, we're on a mission to clean up our spaces. We can't deal with constant messy drawers and unorganized shelves. However, half the battle of getting organized is to create a system that lets you keep it that way for a longer time. That's why it's important to invest in a few organizational and storage products that will make your life easier. We rounded up the best home organization and storage solutions, all under $50.
From Target's new Brightroom collection to The Home Edit's new organizer collection at Walmart, we found 24 clever home organizing products you never knew you needed. Whether you are trying to tidy up your bathroom or make your kitchen look streamlined and effortless, these affordable home organizers will be a big help. Get your drawers in order with containers and bins that create curated sections. Add more shelving to cabinets with stackable shelving. We even found organizers for your home office! Shop our top picks ahead.