This Under-$25 Organizer Changed the Way My Roommate and I Share a Bathroom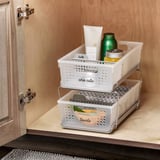 Tiny shared spaces are the hallmark of any roommate relationship, and it's no different for my roommate and I, who share a small bathroom that lacks storage in a three-bedroom, two-bathroom apartment in Hoboken, New Jersey. A self-proclaimed organizational nut, I decided the only way to solve our issue was to channel my inner Marie Kondo and find some storage baskets that not only kept us in order, but also maximized our space under the sink. Behold: the Madesmart Large 2-Tiered Organizer ($23) that transformed our messy bathroom and left us with a simple solution to the perennial roommate problem.
The baskets fit snugly together under the sink, providing each of us with our own little area. They also slide out like drawers, which makes it easy for me to grab an item from either tier without having to dig for long in the low-lit area. If you and your roommate are looking for a way to Marie Kondo the sh*t out of your apartment, or you're just in need of some added storage, this find is worth a try.