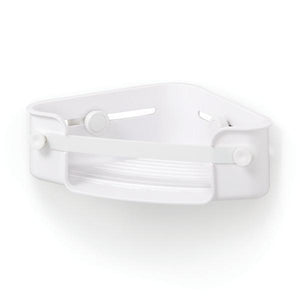 Create your own corner shelf with the FLEX GEL LOCK CORNER BIN. With a tight sealed suction cups that keep it in place, and integrated hooks and soap dish, this corner shower caddy holds all of your shower essentials perfectly.
Rust-Proof & Easy To Clean: Flex Corner Shower Caddy is rust-proof and made from durable plastics that have been tested for strength and longevity; integrated drainage holes prevent water from pooling, which helps keep the caddy clean
Patented Gel-Lock Technology:  Our patented Gel-Lock Technology allows you to lock the suction cups into place, activating a vacuum seal for extreme hold that lasts
Easy To Install & Use: For best results use on a non-porous surface such as glass, tile or fiberglass, creating a corner shelf in your shower
Bathroom Organizer: Designed to organize shower essentials, this corner shower caddy has an integrated soap dish and space for shampoo, conditioner, body wash, a razor, plus two hooks for hanging loofahs, washcloths and more; the flexible band in the front of the caddy allows for increased storage
Won't Tilt: Suction cups keep the caddy locked into place, so if you put a heavier bottle on one side of the caddy, everything remains standing. This is great for showers where you cannot hang the caddy over the shower faucet.
Flex Gel-Lock Corner Bin by Umbra is a simple shower storage solution that helps keep your shower essentials need and organized. Flex Gel-Lock Corner Bin features our patented Gel-Lock Technology and twist-to-grip suction cups which create a vacuum seal for extreme hold that lasts.
Measures 3 1/2 x 13 x 4 1/2 inches
SKU:1004435-660
Weight:1.00 LBS
Width:7.5 (in)Height:3.38 (in)Depth:11.88 (in)