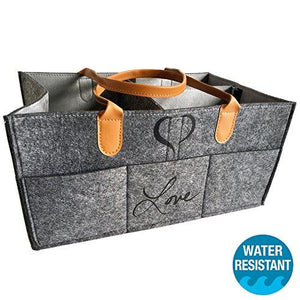 Brand: F&K Solutions
Color: Gray
Features:
✔️ ECO-FRIENDLY HIGH QUALITY FELT: This stylish well constructed bag also has a water resistant inner lining (in a soft ultra-suede like material). Larger than most, it measures at 15 x 10 x 7, with removable inserts (attached with velcro), and several outer pockets, for ultimate versatility, depending on usage and needs. Comes with sturdy easy to grip handles
✔️ ESSENTIAL PORTABLE STORAGE CADDY: Perfect for all of your newborn, baby and toddler's needs. This organizer can be used as a diaper bag, assisting you in transporting all of your baby's necessities. There is plenty of room for a changing pad, disposable or cloth diapers, baby wipes, burp cloths, baby bibs, baby bottles, pacifiers, changes of baby clothes and toys, and perhaps a few things for mom or dad too!
✔️ MULTI-PURPOSE ORGANIZING BAG: This large, trendy modern tote can be used various ways, such as a makeup organizer for you or your teen, an arts and crafts organizer for the crafty one in the family, a children's toy and/ or book bag, or even a handy transportable car organizer. Comes in a classic grey, which is complimentary to any home décor.
✔️ BABY SHOWER GIFT IDEA: This bag makes a thoughtful and fashionable baby shower gift idea on its own, or as a shower gift basket to hold all of the goodies for new and expecting moms and dads. Perfect newborn registry item. Essential for all of your social media sharing needs, your family, friends and followers will LOVE your posts. HEARTS everywhere!
✔️ CUSTOMER SATISFACTION IS OUR HIGHEST PRIORITY: Our baby diaper caddy is constructed with the highest quality eco friendly durable felt, with water resistant liner, and is larger than most diaper caddies on the market. The handles are sturdy and easy grip, and the removable inserts enable the bag to be customized for multiple purposes, for maximum versatility. If you don't LOVE your purchase, your money will be refunded. Be the BEST gift giver at the next baby shower! ❤️
Publisher: F&K Solutions
Details:
❤️ Love Baby Caddy Organizer is perfect for families on the go! Changing your baby can be a lot of work at times, and you may feel that you need an extra hand or two (or eight?) lol! Love Baby Caddy is that perfect helper that you need, keeping everything organized and within arms-reach...making your life so much easier!
This baby tote is not too big, not too small, it's just right! Would fit nicely under the baby stroller, in the car, on the baby changing table, or on the seat beside you in the restaurant (moms and dads have got to get out once in a while lol!) Ideal for a quick pack and grab, to tote on your arm, when running out to the park, to an appointment or for a visit with the in-laws :)
Super versatile, this caddy can be used in many ways around your home, to keep things organized and handy, and also portable when required. Great for storing children's toys & books, keeping arts & crafts tidy and in one spot, organizing bathroom essentials, and also handy as a car organizer.
The color scheme is a modern, trendy yet classic darker grey, and with the unique LOVE and HEART, it'll set you apart from all of the other moms/ dads at the park. This stylish bag looks amazing with any décor or room, be it a guest bedroom/ bathroom, the baby's nursery, or in the family room (handy to keep the remotes and any other essentials in one spot...where's the remote!! lol).
Love Baby Caddy will make an amazing and thoughtful gift for a baby shower, either on its own or to use as a gift basket, to fill with all sorts of essentials and goodies. Perfect for social media sharing needs! Family, friends and followers will LOVE your posts! HEARTS everywhere! We are super excited about our baby caddy and we know you'll love it too! You truly will be the best gift giver at the next baby shower; expect plenty of ooohs and ahhhs! ❤️
UPC: 603784768809
EAN: 0603784768809