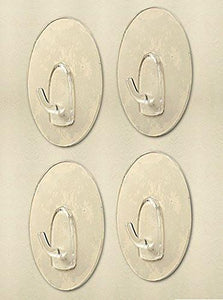 Stick this hook almost anywhere. Peel off the back and stick to almost any smooth surface. When removed they won't leave a mark or trace. Tough, durable, reusable, and washable. More valuable than the 3M Command hooks!! Please copy youtube.com/watch?v=Zn81kcrVO7A into your browser to learn more about this innovative product. Great for kitchen, kids rooms, bathrooms, or anywhere you need an extra hook. Comes in a package of 4. Each measures 2-3/4"Dia.


CLEAR HOOKS. Set of 4 pieces self adhesive hooks. Each measures 2-3/4"Dia. Non-Marking, Easy to Stick on, Holds up to 2 pounds firmly.
KITCHEN HOOKS. Use these in your kitchen, bathroom, office, school or garage. Great for holding keys, cups, hats, loofahs, sponges, razors, washcloths, necklaces or christmas decorations.
SELF ADHESIVE HOOKS. No Drilling. No holes in the wall, no trace on the surface upon removal. These are great to use in shower, on a bathroom mirror, school locker or by your sink for your dishrag.
BATHROOM ORGANIZERS. Sticks to almost any smooth, flat surface. Perfect for Refrigerators. Use it on the side of your toilet to hold your toilet brush. Stick them inside your medicine cabinets (non wood) to hold toothbrushes, razors or combs.
Non-toxic, Tough, Durable, Re-usable, Washable.