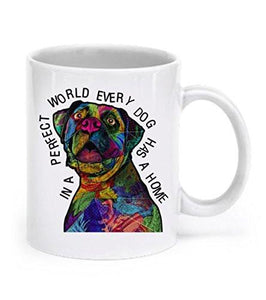 BOXER DOG COFFEE MUG - This is the perfect sarcastic gift for someone who has everything. Your gift search is now over!

Bring the smiles with this boxer dog coffee mug. It's great for your home and makes a very thoughtful gift. It's perfect to drink tea, coffee, or hot chocolate out of, but you can also add in cold drinks when the weather is warmer and you still want to drink out of your new favorite coffee mug.

7 things you can do with this mug:

1. Fill it up with your favorite beverage - tea, coffee, hot chocolate, iced tea, or booze - we're not judging!
2. Put candy or marshmallows in it and keep it on the counter
3. Put a small plant inside of it or grow some herbs
4. Make a DIY mug candle that you're happy to display anywhere
5. Make a thoughtful get well mug - fill it with tea bags, lemon, honey, and chapstick
6. Make it a bathroom organizer - That Garfield "I hate Mondays" mug? Clearly not yours! Put your toothbrushes and razors inside and don't worry about any more bathroom mix ups, plus have something that you love to look at every morning and night!
7. Proudly display it on your office desk and put pens inside

We know - who would have thought a mug could be so versatile!?

THIS BOXER DOG COFFEE MUG IS HIGH QUALITY!

It's made of ceramic and is dishwasher and microwave safe.

SPECIAL SALE RIGHT NOW

This mug is normally $19.95. If you see a cheaper price, you're in luck. Order now to ensure the best possible price. And with Amazon's shipping, you'll get this quickly. In just a few days, you could be happily using your brand new mug.

ABOUT US:
We're a family team who love coming up with designs and selling customized items.
We love animals and a portion of all sales go to rescues.

READY? ADD TO CART NOW!