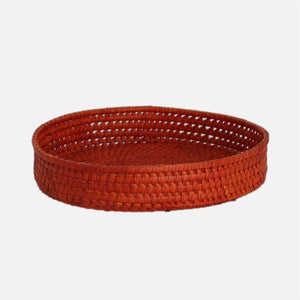 The circular tray is made from natural palm leaves that have been harvested, dried, dyed and hand woven into this simple and beautiful functional shape. Great for a bathroom organizer, center table or fruit tray. The women artisans who weave this product are from communities in the post conflict north of Sri Lanka who we train to develop their skills, and a sustainable livelyhood and fair wage.
Dimensions -40cm(D) x 5cm(H)
Style No -  UIPATRLA440000500
Composition 
 Palmyrah
Wash & Care Instructions
Clean with a soft brush or sponge using a mild soap. allow to dry in the sun. Do not immerse in water.