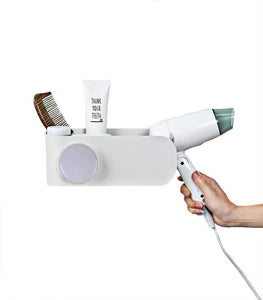 Brand: Ranber
Color: Greyish White
Features:
●【EASY TO BE INSTALLED】: No drilling, just paste it on the wall, the adhesives is in superior viscosity so you don't have to worry about falling. &The special design for wrapping the hair dryer wire easily, Make your life simpler.
●【HIGH QUALITY&MATERIALS】: Made of ABS plastic, healthy, no smell, premium feeling and easy to be cleaned up. The adhesive has strong adhesion and the rack has a nice bearing capacity.
●【ELAGANT DESIGN】:Beautiful and simple appearance is not only the bathroom organizer, but also a unique décor for your room which is in a premium feeling. Four fresh colors can satisfy your all demand.
●【FIT MOST TYPES HAIRDRYER】 : Special design fits most hair dryers, especially perfect for dyson hairdryer, this multipurpose rack will make your life simple.
●【 FUNCTION&SIZES】: Not only a hair dryer rack, but also a shelf. shallow and deep compartment are very helpful, you can put your hair wax, combs, hair accessory inside it&9.8(L)in*4.5(w)in*3.9(h)in/25(L)cm*11.5(w)cm*10(h)cm
Publisher: Ranber co.,Ltd
Details: 【Features】
The unique design is suitable for most hairdryer. Not only a hairdryer rack, but also an organizer shelf. You can put combs, hair wax, beauty care etc inside the compartments. Study with holding hair dryer and hair accessories. You do not have to worry about blower wire, it is much easier to organize it than usual hair dryer holder.

【Elegant design】
The hair dryer storage is also an upscale decoration for household, barbershop and hair salon. High quality with the premium feeling will make a corner of your house looks more concinnity.

【Warranty】
Customers satisfaction is our first pursuit, if you have any questions please feel free to contact us. Our professional customer service team will always be here for you.

【Installation instructions】
1. Clean the wall
2. Tear the adhesive backing
3. Press the adhesive backing against the wall (Being carefull not to leav air bubbles during the process)
4. Hook the back part of the ring then clamp down the rack
5. Hook the back of the product install the main fold.
6. Draw the hair dryer along the chute and wrap the wire well.
Note:
1. The load-bearing capacity of the product should not exceed 5kg.
2. The product should be affixed to the wall for at least 24hours before use.

【Specification】
Content:one package is for one hair dryer holder.
Size:9.8"x4.5"x3.9"
UPC: 778695498791
EAN: 778695498791
Package Dimensions: 10.2 x 4.8 x 4.3 inches