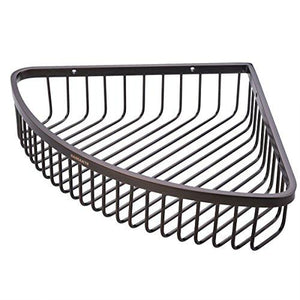 Brand: Hane
Color: Oil Rubbed Bronze
Features:
Heavy Duty Rustproof Shower Basket, Modern Design and Delicate Detailing Bathroom Wall Storage
This Shower Selves with Oil Rubbed Bronze (ORB) Finished, will Help You Complete a Cutting-edge, Contemporary Look.
With 22pcs Stainless Steel Wire,Strong Enough.
Two Wall Mounted Sides are 9-inch Long, 2.4-inch Deep.
Uses a Simple Set Screw Wall Mounting System, Reducing Confusion and Stress During Installation.Fits Public,Home,School,Hotel and so on.
Publisher: Hane
Details: HANEBATH products are of superior workmanship to ensure the highest quality and are available in various styles to suit the decor of your home. Crafted from High Quality Material, HANEBATH products are durable and long lasting. Variegated finished guarantees smooth surfaces, safe use, and high hygiene. They are easy to install in almost any kind of construction project.

Reasons to buy:
Strong Shower Caddy
Quality material
Economical
Long life , Rustproof
Durable, non-corrosive
Impressive look