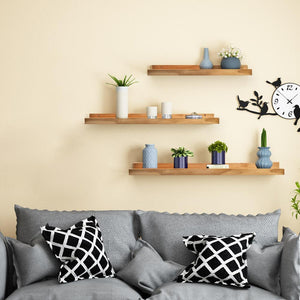 Dress Up Your Blank Walls to Maximize Both Function and Style in Your Small Bathroom Space... 

Trend Setting: The walnut color and simplistic design is great for instantly giving your bathroom a makeover, 
you can utilize the shelves over your toilet to store your paper towel, toilet paper and tissue box. 

Perfect for the Kitchen: Hang these shelves near your stove to store your olive oil and vinegar bottle, 
to keep your spices within reach and to efficiently tidy up your countertop space, so cooking is no longer a hassle. 

Makes Everybody Happy: These shelves will make the perfect gift for any occasion or holiday, 
you can get it for a housewarming, Christmas or just because. Don't wait, order today while supplies last to make someone special happy. 

The Bathroom Organizer Tray Shelves Will Help You To: Decorate and tidy up your bathroom space, 
dress up your blank bathroom walls, use space efficiently and organize with ease. Give your bathroom a makeover at an affordable cost. 

Specifications: 
Material: Wood 
Color: Yellow 
Product Dimensions: Small 18" x 4" x 2" Medium 26 " x 4.5 "x 2" Large 30" x 5" x 2" Inside Tray Height is 1 ½" 

What is in the Package: 
3 Wooden Tray Shelves in Varying Sizes with Mounting Screws and Anchors
Small yet Spacious: As the trend of tiny homes and micro apartments emerges, you can learn to dress up your blank walls, the set of 3 tray shelves in varying sizes are great for creating extra storage space in your bathroom.

Minimalist Living: With these tray shelves, you can maximize both function and style. Walls are a home's number one untapped resource, they're great for hanging pictures but in a small space they can be used for much more.

Simple to Install: The pieces don't require any assembly, wall mounting screws and anchors are also included in the packaging to help you save time from heading out to the hardware store. Even a first timer can install these with success.

Increase Hygiene: Hang these shelves near your bathroom vanity to store your toothbrush holder, Q-tip jar, shampoo, conditioner, make-up, skincare, body lotion or other bathroom accessories within reach, this will help you keep your sink clean and fresh all the time.

Fits the Bill: These sturdy shelves are high-quality and sold at a reasonable price, you can use the shelves on any empty wall space to dress it up, to add flair and style, and to stay within your budget, all at the same time.