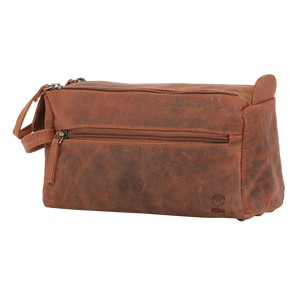 Everything in One Place Toiletry Bag Leather Dopp Kit Travel Small
Key Features:-
Product Size:

L-9 X W-4 X H-5 inches
Made From

100% Genuine Buffalo Leather

Handcrafted To Create Vintage & Retro Style Design

Store Deodorant, Shaving Cream, Razor, Cologne, Comb, And Many More Items!

Waterproof Lining Inside

Easy Access Dual Zippered Opening For Convenience

One Zippered Pocket Inside

One Zippered Pocket Outside

Made From Classic 'Hunter' Leather

Color:

Tan

Comes In A Cool Dust Bag

Size:

Small
Premium Quality Leather Toiletry Bag


If you love products that leave very little impact on the environment, the range of leather goods from Rustic Town Handmade leather bags and accessories are carefully crafted using traditional techniques and by skilled artisans to ensure absolute perfection. These leather goods are made from goat and buffalo leather using 100% environment friendly methods, making them completely recyclable. Each of these vintage leather pieces boasts a rich artistry and craftsmanship. Although the goods are handcrafted, they don't compromise on style.

Only Real Leather is This Strong & Sturdy
Bags made of synthetic materials tear and wear out easily. Pick this one up and you feel the heft that assures you it's made of thick, rugged hide that endures plenty of handling. You get nearly the same strength as full-grain or top-grain leather, but with a lower cost.

Leather Gets Softer with Use
You'll love the supple, organic feel of your bag's authentic cowhide exterior. Even more, you'll appreciate that it gets softer and more attractive with every use.

Spacious Compartment
This Dopp Kit has space to organize all your toiletries in one space while traveling.
Smartly designed for maximum storage capacity with ease of handling.

Just the Right Blend of Style & Efficiency
Vinyl and plastic toiletry organizers pale in comparison to a quality leather counterpart. This Rustic Town toiletry bag is handcrafted from 100% genuine thick buffalo leather that last through time. The leather, treated using traditional tanning techniques and polished off with vegetable oils, flaunts a soft glow, unique texture and is water resistant
.