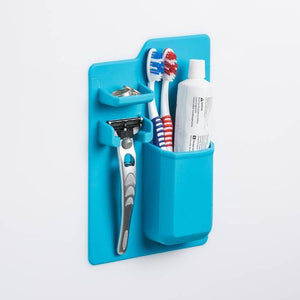 Mighty Bathroom Organizer is not just a toothbrush holder, it's a space-saving design that keeps your bathroom accessories (razor, toothbrush, toothpaste) safe! It keeps your toothbrush hygienic, dry and clean. Perfect for every bathroom!
With the set you can place your bathroom utensils where you want them. Whether at the mirror, on the tiles or directly under the shower. The whole thing is done without sticking or drilling in a few steps. Quite simply - and you have order in the bathroom.
Main Features:
The self-adhesive storage organizer set combines toothbrush holder, shaver and jewelry bowl in one
Easy installation: simply press on shiny surfaces such as glass, marble, metal and tiles and you're done!
Versatile: great for home, travel, hotels, gyms etc.
Material: silicone
Environmentally friendly : reusable and machine washable
Various Color for you to choose!