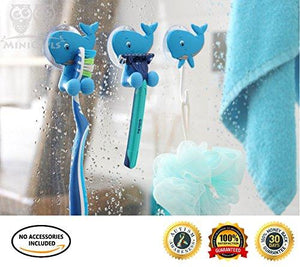 Brand: MiniOwls
Color: Blue
Features:
★ TOP RATED STORAGE SOLUTION to keep your bathroom neat and organized. These silicone fun and cute whale characters will help you RE-CLAIM BATHROOM SPACE while providing a safe environment for children to bathe & play in.
★ GREAT EDUCATIONAL TOOL that teaches kids organization skills and responsibility necessary for lifelong success and productivity.
★ HEAVY DUTY WHALE SUCTION CUPS stay stuck to SMOOTH SURFACE tiles, glass shower cabin or any mirror, providing strong & secure hold for toothbrushes, shavers, combs, brushes, hair elastics, wash clothes, luffas, small towels etc.
★ INEXPENSIVE & DECORATIVE DISPLAY includes 4 whale holders & 2 whale hooks brightening up every space. On its own or combined with whale bath spout or MiniOwls Bathtub Hammock creates adorable bathroom team - great gift idea for a special occasion like baby shower, housewarming or kid's birthdays.
★ BUY WITH CONFIDENCE from a known and trusted company. MiniOwls Inc has over 2000 positive customer reviews & feedback ★ A Lifetime Quality Guarantee with a 'no questions asked' return policy.
Legal Disclaimer: IN NO EVENT, REGARDLESS OF CAUSE, SHALL MINIOWLS BE LIABLE FOR ANY INDIRECT, SPECIAL, INCIDENTAL, PUNITIVE OR CONSEQUENTIAL DAMAGES OF ANY KIND, WHETHER ARISING UNDER BREACH OF CONTRACT, TORT (INCLUDING NEGLIGENCE), STRICT LIABILITY OR OTHERWISE, AND WHETHER BASED ON THIS AGREEMENT OR OTHERWISE, EVEN IF ADVISED OF THE POSSIBILITY OF SUCH DAMAGES.
Publisher: MiniOwls Inc
Details:
Does your bathroom look like a WAR ZONE after your kids are done with it at night?

Is your ceiling dripping like a cloud on a rainy day?
Is your floor looking like a baby pool in an all inclusive?

Mine did! But no more!

MiniOwls toothbrush holder and sponge hooke helped me stay sane! My kids love our new game of putting their stuff away. Now I only need to find a good solution for the wet ceiling ;) This new and useful COMBO comes with 4 toothbrush holders , and 2 hooks for your bath pouf or cap. All suction cups are in the shape of an adorable whale that combined with the MiniOwls Bath Toy Storage Hammock make an adorable BATHROOM TEAM - a great gift for a little boy or girl.


Kids love it & parents approve of it:

"...It's perfect! Makes keeping the bathroom tidy so much easier!";
"Once again the MiniOwls have produced a fantastic item! Bath time is so much more fun...";
"...And kids are learning to keep things organized. "
UPC: 606089185920
EAN: 0606089185920