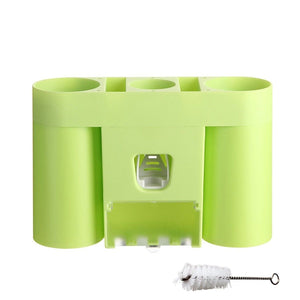 Ocathnon Kids Auto Toothbrush and Toothpaste Rinse Cup Holder Set Dustproof Toothbrush Holder Hands Free Toothpaste Squeezer with 2 Ringing Mugs Free Cleaning Brush Family Bathroom Organizer(Green)
---
Product Details
Color: Green
Brand: Ocathnon

Product Dimensions: 8.3 x 6 x 3.1 inches
Item Weight: 1 pounds
Shipping Weight: 1 pounds
Manufacturer: Ocanon
Item model number: QKCJ00235J
Exquisite kids auto toothpaste dispenser Toothbrush and toothpate organizer set,Made of quality and healthy ABS and PP plastic. Space-saving wall Mounted design, perfect for the lovers or the family of two apartment.
Dust-proof organized toothbrush holder could hold up to 4 brushes; 2 magnetic adsorption rinsing mugs upside down to drip dry water and for easy fetch; Storage rack to keep your comb,cleanser and other gadgets organized!
The Wall Mounted Bathroom Storage Organization comes with Two upgrated strong adhesiveness 3M stickers, After Fix the Whole Set to the Wall, just press your brush towards inside horizontally, the toothpaste will drop to the brush. (Make Sure the Surface is Dry and Clean before adhere to the wall.)
Convenient and Easy to clean up-Works with 3M stickers, no more falling off;Easy to assembly and disassembly according to the diagram,Comes with a free brush to clean the rack bottom and corner.
Attention:the toothpaste holder is just suitable for toothpaste that is below 200g and you can put your hair brush, facial cleaning puff or cleansing milk in the rest holes or holders.
Color:Green Ocathnon kids auto toothpaste dispenser Toothbrush and ToothpasteRinse Cup Holder Set Dustproof Toothbrush Holder Hands Free ToothpasteSqueezer with 2 Ringing Mugs Free Cleaning Brush Family Bathroom OrganizerMaterial: ABS+PP Plastic Size: 20.8 x 13.8 x 6.5 (cm) / 8.19 x 5.43 x 2.56(Inch) Package Weight: 550 gram/19.4 oz Feature Convenient toothbrush andbathroom accessory holder helps keep your bathroom tidy and organized. Space-saving wall Mounted design.Perfect for the couple. The toothbrush holders canaccommodate 4 toothbrushes and keep the toothbrushes upright, there is also aclear cover to keep your toothbrushes clean and tidy. One-press, squeezeappropriate amount of toothpaste automatically. The cup upside downdesign,dustproof,easy to take.Also can rule out excess water,prevent nourishesthe bacteria. No poison,no smell,no residue,it's great for anyone.It is thebest gifts to give yourself,families,lover,friends Package Included 1 xAutomatic Toothpaste Dispenser and Mug Stand Organizer Set 2 x MagnecticSuction Tumblers 1 x Cleaning Brush
---
PAYMENT POLICY
We accept all major Credit Cards, Amazon Payments, and Bitcoin.
We also offer an Additional 2% Discount for Direct Bank Debit Payments via Kash.com
SHIPPING POLICY
Most items are shipped within one business day via UPS within the Continental United States.
Canada shipment can take up to 10 days
Alaska, Hawaii, and Puerto Rico shipment can take up to 10 days, and some items may not be permitted to ship to these locations.
If any shipment is not permitted to your area, full refund will be issued within two business days.
RETURNS POLICY
All returns accepted within 30 days after receiving the item.
Refund given as money back (no exchanges)
Return Shipping to be paid by buyer, unless item defective or damaged.
15% Restocking fee applies unless return due to defective or damaged product.
Perishable or Hazardous Goods are not returnable. Returns may require compliance with Manufacturer policies.