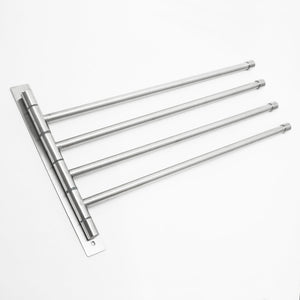 Brand: Yaze Kitchen
Color: Silver
Features:
THE PERFECT TOWEL BAR FOR ANY BATHROOM: This elegant Kes towel bar is a beautiful and functional addition to any bathroom, smaller or bigger. In just one bathroom organizer you can hang 4 different towels where they can air dry simultaneously! This space-saver towel bar is definitely a must for any small bathroom as instead of taking up space, it gives you more!
UNPARALLELED QUALITY: The heavy duty kes towel bar is made from the most durable stainless steel materials ensuring that it will never rust, corrode or lose its shine! This bathroom towel storage hanger is definitely made to last for years, while its rust-resistant design ensures that your towels will stay clean and hygienic!
HASSLE FREE INSALLATION: Installing this handy wall storage organizer will not take you more than 5 minutes! Note that no assembly is required while you can just mount the towel hanger fast and easy using the hardware provided. It is so easy that you can definitely do it yourself!
AMAZING DESIGN- GREATER SIZE: While most similar products are around 13" long, this stainless steel towel bar is 17" long and 10" tall, ensuring that it can store even your biggest towels! This amazing towel rack features 4 swing arms that can rotate 360°, allowing you to hang your wet and dry towels simultaneously, without them touching one another!
GET IT WITH CONFIDENCE: Being so sure about the great quality and durability of this amazing product we offer you a 100% money back satisfaction guarantee! Try it today and in the improbable case that it won't meet your expectations you will get your money back!
Publisher: Yaze Kitchen
Details: STARTING TODAY: Keep Your Bathroom Neatly Organized With The Most Practical & Modern Towel Rack!

Are you sick and tired of tidying up your messy bathroom as there is no space to store your towels?

Do you want to install a towel organizer but your bathroom is way too small?

Not Anymore! Add The Kes 304 Towel Bar In Your Bathroom & Keep All Your Towels In Place!

Featuring 4 extra long (17") swing arms, this towel hanger rack is just the perfect choice for any bathroom!

Just in one organizer you can store 4 different towels, either for body or face, for your or for the whole family!

And the best part? Thanks to its 360° degree rotation, this smart wall storage organizer allows your towels to air dry without the one touching the other, ensuring this way that your towels will stay clean and hygienic for way longer!

Supreme Quality Without Sacrificing Style!

This Stainless Steel Tower Bar is a product made to last for years! Rest assured that no matter how wet your towels will be, this amazing rack will never rust or corrode.

Note also that this hanger is extra strong and sturdy and it can hold many towels at the same time without bending!

Too Good To Be Just For Towels, Right?

Of course! You can definitively use one of the 4 swing arms to hang your pajamas, the after-shower clothes and many more!

Install it today in your bathroom (hardware included) and you will definitely love how space saving this towel rack is.

No need to mention how elegant and modern it looks!

Bring Style & Comfort To Your Bathroom With The Most Practical Wall Mounted Towel Bar!

Backed Up By A Peace Of Mind Guarantee, What Are You Waiting For? Add To Cart Today!
UPC: 749995652626
EAN: 749995652626
Package Dimensions: 17.9 x 12.5 x 2.0 inches